Rio is a wandering swordsman who travels with an exiled Gard, Xan. He is known to some as 'The Eye of the Storm'.
Rio

Age

25

Race

Human

First Appearance

Page 47

Acquaintances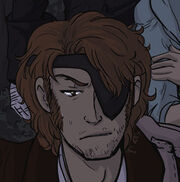 Appearance
Edit

Rio is a confident-looking man with red hair. He has only one eye, and wears an eyepatch over his scarred one. He has some facial hair from staying in the woods for so long.
Personality
Edit
Rio is a confident and charismatic person, who uses his words to get what needs. He is fairly kind, and much less blunt than his companion.
Swordsmanship
Edit
Using a style not from Lavelle, Rio uses two swords to fight his opponents.
Relationships
Edit
Xan - Xan and Rio have been close friends for many years, and would be willing to die for one another.
The Winters - He and Xan are helping them, but may also want to find out information from them.